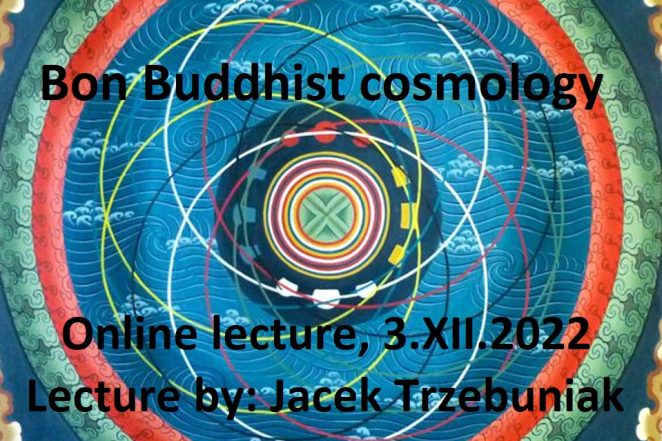 Event details
sobota | 3 grudnia 2022
14:00 - 15:30
Bon Buddhist cosmology
Online lecture, 3 December 2022 at 14.00 (CET time)
Lecture by: Jacek Trzebuniak
In the lecture, based on various texts, especially the text of the 6 lamps and Sipe Dzophug, we will learn about the Tibetan Buddhist (Bon tradition) explanation of how the world is constructed (Bon cosmology). The 6 lamps explain that from primordial nature, three spheres (formless, form and desire) manifest through the manifestation of dynamic energy, in which there are six worlds (gods, demigods, humans, animals, hungry ghosts and hells). In the lecture we will learn more detailed explanations of the three spheres and the six worlds. We will also learn more about the life and functioning of the beings of the six worlds.
Lecture in English (with Portuguese and Spanish translation). Everyone is welcome to attend.
The lecture will be given by: Jacek Trzebuniak (instructor of Ligmincha Poland). The lecture is organised in cooperation with the Drenpa Namkha Foundation.
Date: 3 December (Saturday), 14.00 – 15.30 CET time (lecture via Zoom)
Registration: jacektrzebuniak86@gmail.com
Suggested donation: 5 Euros (to the Drenpa Namkha Foundation account https://drenpa-namkha.org/en/strona-glowna/wsparcie/darowizny/ )
If you prefer donating via paypal, you can donate to Ligmincha Poland https://www.paypal.com/paypalme/LigminchaPolska
In the title of donation write: Donation Bon cosmology lecture
You are also invited to find out more about Jacek's translation project in collaboration with this foundation https://drenpa-namkha.org/en/projekt-tlumaczeniowy/