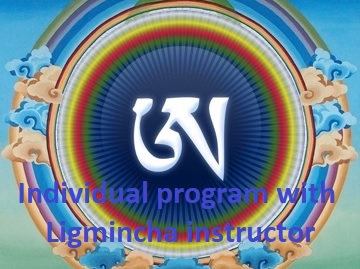 Description
Buddhist practitioners receive many teachings but have few opportunities to work individually with a teacher. For this reason Ligmincha Poland organizes an individual program with instructor Jacek Trzebuniak.
The program is intended both for people practicing in the Tibetan Bon tradition and for new people who have not had contact with Buddhism. The program is also open to people practicing in other Buddhist schools or other spiritual traditions. Because progam is individualized, the program can be tailored to a person's level and needs.
Read more about this instructor here.
How
Individual meetings (just one person and the instructor) are weekly for 1 hour via the internet (skype or zoom). So there will be 4 or 5 meetings per month.
The meeting will consist of 15 minutes of teachings, 30 minutes of guided practice and 15 minutes for questions, conversation.
The suggested donation is 160 PLN (40 euro) per month (4 meetings).
You can sign up for this program at any time and you can cancel at any time.

Sign up: jacektrzebuniak86@gmail.com

Meeting topics will be determined at the first meeting. Meeting times and day will be determined individually depending on student and instructor availability.
Some topics:
Basic Practices:
We focus on practices to clear karma and negative emotions;
We learn and do introductory practices (ngondro): compassion, guru yoga, cleansing karma with mantra, doing prostractions, etc;
We work on purifying specific challenges and problems in our lives;
We practice Inner Refuge;
We do concentration (zhine) practice.
As part of the program, we will study the Nine Ways of Bon.
More advanced practices:
We focus on stabilizing the mind and deepening the meditation experience;
We learn to dissolve our mental and physical tensions through inner refuge practice;
We develop qualities (e.g. love, joy, peace) in our daily lives;
We do basic tantric practices (simple breathing exercises, visualization and mantra recitation), such as the practice of Sherab Chamma;
We learn how to incorporate meditation into our daily life and how to deal with losing the meditative experience (e.g. peace, balance) in various difficult or stressful situations;
We learn how to restore balance between different elements of ourselves and our lives in order to be able to live fully (practice of the five warrior syllables, five elements).